Norton offers a free service called ConnectSafe for home users.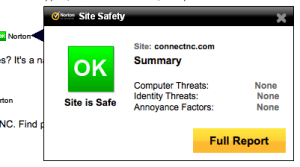 Once you start using ConnectSafe, Norton checks the web sites you surf to against its extensive database to attempt to ascertain the site's safety. If it's deemed safe, you're sent to your web site. If not, you receive a warning. Another feature is Unsafe Site Filter, which you can turn on or off. When the filter is on, you will only see Norton Secured sites when you search. Otherwise, you can make an informed choice, because your search results display Norton's ok if they're believed to be safe.
One of the things you may not like about Norton ConnectSafe is that when you attempt to reach an invalid web site (not found in DNS), you're presented with a search site powered by Ask. But, I only consider it a minor imperfection.
Norton ConnectSafe allows you to choose from three levels of protection.
A – Security (malware, phishing sites and scam sites)
B – Security + Pornography *This is the default policy
C – Security + Pornography + Non-Family Friendly
All policies block malware, phishing and scam sites.
Norton ConnectSafe: https://dns.norton.com/dnsweb/homePage.do
https://connectnc.com/wp-content/uploads/2015/08/CNClogo3.png
0
0
ConnectNC
https://connectnc.com/wp-content/uploads/2015/08/CNClogo3.png
ConnectNC
2013-01-13 12:00:49
2013-01-13 12:00:49
Add an extra level of protection for free with Norton ConnectSafe