Hosting customers may use two-factor authentication (2fa) to better secure their cPanel accounts. ?2fa adds an extra level of security. It requires a smart phone app called Google Authenticator, which is available for Android and iPhone.
You should be familiar with the steps required to install an app on your phone before you begin. ?Unfortunately, we cannot provide support for your smart phone as a part of our hosting support. ?If you need help with this, please make an appointment for a 30 minute support session at our office.
First, login to your cPanel account and then use the search to find 2fa. ?You will see Two-Factor Authentication, as pictured below. ?Click on that.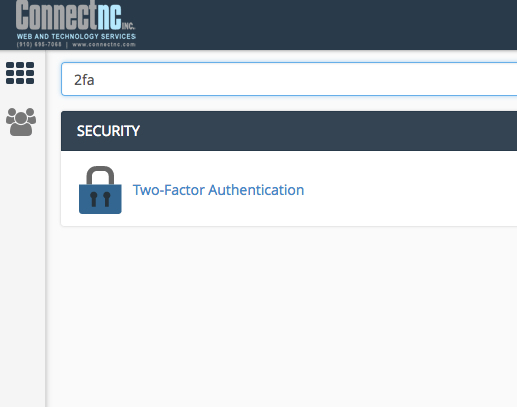 Next, click the blue button that says, "Set Up Two-Factor Authentication."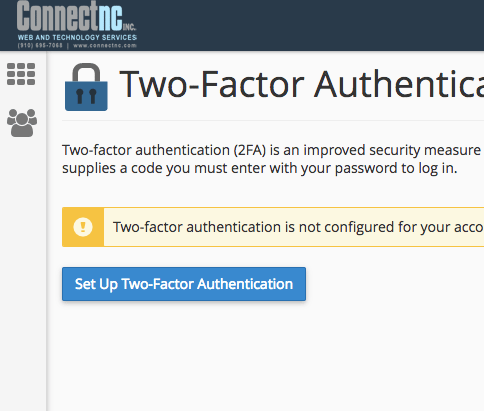 Scan the QR code with your smart phone.
Enter the code in the space provided. ?Click the button that says, "Configure Two-Factor Authentication." ?You must already have the Google Authenticator app on your phone in order for this to step to complete.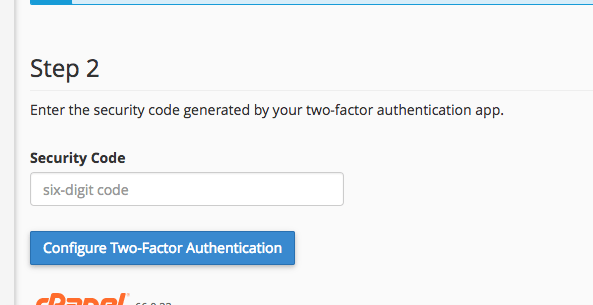 Accept the server name displayed on your smart phone. From now on, you will need the smart phone app to successfully login to your cPanel account. You can reconfigure or remove 2fa by logging in to cPanel and clicking on "Two-Factor Authentication" again.