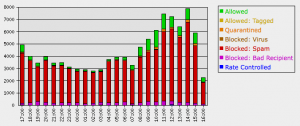 Free 30 day trial of email spam and virus filtering! ConnectNC, Inc. provides a powerful spam filtering service which delivers sophisticated message filtering technology to businesses as well as individuals. Our anti spam filtering service provides advanced pattern recognition techniques which scan your incoming email messages to remove any spam or virus before they are delivered to your mailbox.
Support for our Spam/Virus Filtering
Our spam filtering technology works by changing your domain's MX (mail exchange) record.  We'll provide you instructions on how to make these changes.  If you are already a customer hosting your website with us, we will make these changes for you.  Even if you host your website with another provider, you will still be able to use our powerful Spam and Virus Filtering solutions.  It's as simple as asking your hosting provider to change your MX record.  Email is then filtered before it reaches your company's email server.  There are no administrative tasks for you to struggle with, and no hardware or software to purchase.  This spam filtering service eliminates 99% of your junk email and all viruses that come along with it.
It offers you and/or your business a month-to-month spam filtering service with no long term commitments.  Whether you are an individual, have one employee, or hundreds, this is the most powerful, cost effective, and easiest anti-spam filter available today.
$15.00 / month priced in increments of 10. Initial one time setup of only $35.00. Currently offering free setup!
Fill out the form below to get your FREE 30 day trial starting today!