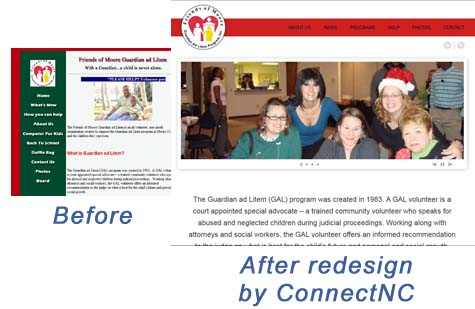 What we did: Design, Develop, Hosting
Visit Friends of Moore GAL
What Customers Say!
Thanks for your work in moving our data from godaddy to connectnc. Great job.
Leon D'Onle
I'm just so glad my husband found you and made the call! Thanks! Fondly, Emma
Pinehurst
NC
Last week for the first time ever we experienced a major virus attack on our home PC. After evaluating several options I visited your business on Broad Street as a new customer.
New Loyal Computer Repair Customer
Thank you for all you have done to make me feel comfortable about my return to ConnectNC. I didn't know what I was missing when I went to Centurylink until I returned.
Susan Schwartzbach, Pinehurst
NC
Working with you has been a great experience. Your turn around time and helpfulness are exceptional and you deliver more than expected.
Gia M., Riverside
CA
Technical Support
Use this option only if you want a technician to remote into your computer. Otherwise, please go to
https://www.connectnc.com/clients/submitticket.php
.
Remote login tech support is available Monday through Friday, from 9am to 5pm, and other times as arranged.
Since 1996!
420 SW Broad Street
Southern Pines, NC 28387
910-695-7068 or 888-290-4601